Podcast: Play in new window | Download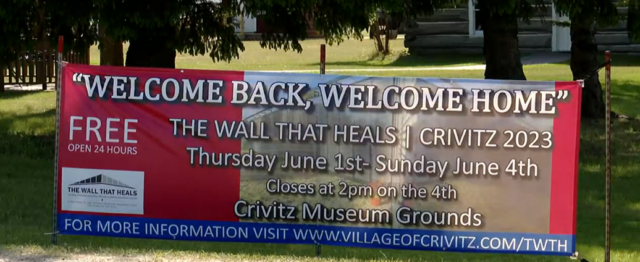 Episode 2527 of the Vietnam Veteran News Podcast will feature a story about the Wall that Heals coming to Crivitz, Wisconsin. The featured story appeared on WBAY-TV 2; Action 2 News and was titled: "The Wall that Heals" receives escort to Crivitz, opens Wednesday. The story was presented by Samantha Cavalli. Samantha is an MMJ/Reporter, originally from Ocean Township, New Jersey.
On Veterans Day 1996, the Vietnam Veterans Memorial Fund (VVMF) unveiled a replica of the Vietnam Veterans Memorial in Washington, D.C., designed to travel to communities throughout the United States. Since its dedication, The Wall That Heals has been displayed at nearly 700 communities throughout the nation, spreading the Memorial's healing legacy to millions.
Bringing The Wall home to communities throughout our country allows the souls enshrined on the Memorial to exist once more among family and friends in the peace and comfort of familiar surroundings.
The Wall that Heals is making its second appearance at Crivitz. It arrived on Tuesday May 23, 2023 and will remain open thru Sunday. It is set up at the Crivitz-Stephenson Historical Society Museum, 204 N. Oak St.
Vietnam Veteran John Deschane visited the exhibit and said, "It's a very emotional experience."  He added this, "My absolute most precious memory of coming home from Vietnam was landing at Austin Straubel Airport in Green Bay, and there was this beautiful lady standing up in the deck and she gave me a great big hug, and I married her 53 years ago,"
On Tuesday afternoon, The Wall that Heals was led by a police escort and more than 250 veterans and their motorcycles, traveling from Howard to the Crivitz-Stephenson Area Museum. It made its way through Oconto, Coleman and Pound before its final stop, where it was met by a sea of red, white and blue.
All in the Crivitz area are encouraged to visit the Wall and pay their respects to the 58,281 Americans who gave their lives for their country in Vietnam.
Listen to episode 2527 and discover more about the Wall that Heals coming to Crivitz, Wisconsin.