Podcast: Play in new window | Download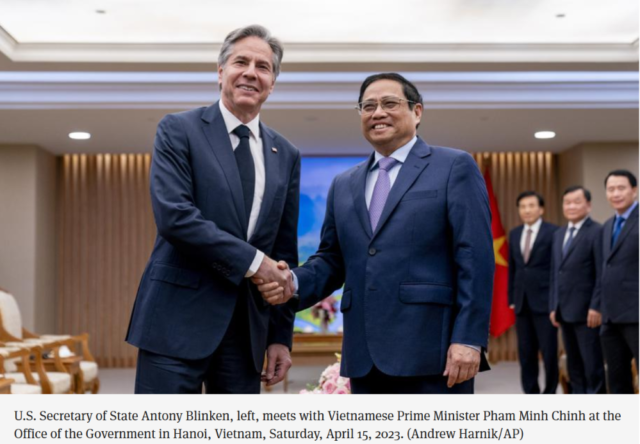 Episode 2490 of the Vietnam Veteran News Podcast will feature a story about the growing relationship between the U.S. and Vietnam. The featured story comes from Deutsche Welle and is titled, Blinken in Vietnam to boost ties with an eye on China.
According to its website, Deutsche Welle (DW) is Germany's international broadcaster and one of the most successful international media outlets. They provide impartial news and information, giving people worldwide the opportunity to form their own opinions, assess issues of local and global significance and participate in social debates as active and informed citizens.
They produce distinctive, regionally relevant and dialogue-based content in 32 languages centering around six focus topics: freedom and human rights, democracy and good governance, free trade and social justice, technology and innovation, health education, nutrition and environmental protection, and German and European culture
In its story DW reported on the meeting of US Secretary State Antony Blinken and Vietnamese Prime Minister Pham Minh Chinh in Hanoi on Saturday, April 15, 2023. The purpose of the meeting was to discuss upgrading bilateral ties between the two nations.
It is believed by many that the genesis of the meeting began with a phone call last month between President Joe Biden and the head of Vietnam's ruling Communist Party, Nguyen Phu Trong. It seems both parties are concerned with the growing influence of China and want to discuss concrete actions that could produce favorable results for both countries.
To show the seriousness of the US intentions, Secretary Blinken broke ground on a new $1.2 billion US embassy compound in Hanoi, which is intended to demonstrate the administration's commitment to improving ties.
Coincidentally, this development comes right at the fiftieth anniversary of the withdrawal of American combat troops from South Vietnam, which signified the conclusion of America's direct military intervention in the Vietnam War.
Listen to episode 2490 and discover more about the growing relationship between the U.S. and Vietnam.