Podcast: Play in new window | Download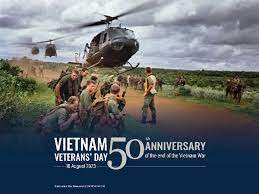 Episode 2587 of the Vietnam Veteran News Podcast will feature a story about how the Australians are marking their Vietnam Veterans Day. August 18 is Vietnam Veterans day in Australia. That day was chosen because that was the day the biggest battle fought by Australian forces occurred.
To help mark the occasion, Australian politician Barnaby Joyce made a statement about Australian's service in Vietnam. He was interviewed on Sky News. During the interview he commentated on the difficult challenges the Australian troops faced in the War.
He also commented about the results of their service in country. He believes the War burned out the communists and made them unable to continue the spread of communism in Southeast Asia.
Barnaby Thomas Gerard Joyce (born 17 April 1967) is an Australian politician who served as the 17th deputy prime minister of Australia under Prime Minister Malcolm Turnbull from 2016 to 2018 and Prime Minister Scott Morrison from 2021 to 2022 as the leader of the National Party of Australia.
Joyce was born in Tamworth, New South Wales, and is a graduate of the University of New England. In 1999, he set up an accountancy practice in St George, Queensland.[4] Joyce was elected to the Australian Senate at the 2004 federal election, taking office in 2005. He became the National Party's Senate leader in 2008.[5] At the 2013 election, he transferred to the House of Representatives, winning the rural seat of New England in New South Wales.
On 18 August, Australians commemorate Vietnam Veterans' Day on the anniversary of the Battle of Long Tan in 1966. They  remember the sacrifices of those who died and say thank you to almost 60,000 Australians who served during the 10 years of our involvement in the Vietnam War.
Listen to episode 2587 and discover more about how the Australians are marking their Vietnam Veterans Day..