Podcast: Play in new window | Download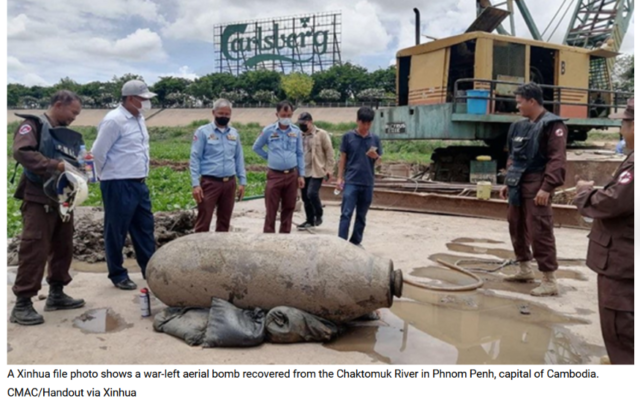 Episode 2633 of the Vietnam Veteran News Podcast will feature a story about an unexploded 500 lb bomb from the Vietnam War that was found in a suburb of Phnom Penh. The featured story comes from the Khmer Times titled: Vietnam War era U.S. aerial bomb safely removed in Cambodian capital's NW suburb.
According to Yale University, between 1965 and 1973, the United States dropped 230,516 bombs on 113,716 sites in Cambodia.
A Cambodian government report showed that from 1979 to June 2023, landmines and explosive remnants of war explosions had killed 19,821 people and injured or amputated 45,205 others in the Southeast Asian country.
This could be one of the factors that cause the country of Cambodia is not openly welcoming to American tourists. It is a terrible thing that the little country of Cambodia was used a staging area for war by the North Vietnamese during the American Vietnam War. Unfortunately to this day, Cambodian people are suffering from unexploded ordnance from the Vietnam War.
The Cambodian Mine Action Centre (CMAC) is Cambodia's leading demining organization, working in the key areas of Survey and Land Release, Mine and UXO Clearance, Mine and UXO Risk Education and Training, Research and Development. CMAC currently has 1,715 staff across Cambodia, including a national office in Phnom Penh, six provincial demining units and a Training Centre in Kampong Chhnang, working towards the mission of "Saving lives and Supporting Development for Cambodia".
CMAC was established during the United Nations Transitional Authority in Cambodia (UNTAC) in 1992, in order to assist the safe return of thousands of refugees to their homelands across the country. Recognizing that the large number of landmines and UXO across Cambodia was a significant threat to post conflict reconstruction and continuing development, CMAC became an autonomous national organization in 2000 and developed a series of programs including landmine awareness, landmine field information, landmine and UXO clearance and training in landmine clearance to achieve the safe transition to peace and security for the people of Cambodia.
Listen to episode 2633 and discover more about an unexploded 500 lb bomb from the Vietnam War that was found in a suburb of Phnom Penh.