Podcast: Play in new window | Download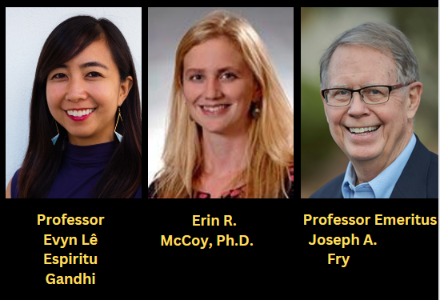 Episode 2459 of the Vietnam Veteran News Podcast will feature a discussion about Evyn Lê Espiritu Gandhi's article Revisiting the Southern Question.
Andy Pham is a good friend of this podcast. In the past he has brought distinguished authors to the podcast who talk about their writings which help expand our knowledge about the Vietnam War. This is important because anytime we have an event in our history that led to the creation of a black marble walled memorial in Washington, D. C. with 58,281 names etched upon its walls of Americans who died for their country in that event.
This episode will feature the three participants of the previous episode of this podcast. They were Joseph A. Fry a distinguished professor of history emeritus, and Professors Evyn Lê Espiritu Gandhi and Erin R. McCoy.
In that previous episode Joseph A. Fry talked about and answered questions about his new book Letters from the Southern Home Front that explores the diversity of public opinion on the Vietnam War within the American South.
In this episode the topic of discussion by the three participants is Evyn Lê Espiritu Gandhi's article Revisiting the Southern Question. The article appeared in Georgia Review.
Her article begins with this: "What does it mean to be southern? What does it mean to feel and think deeply through multiple geographies of the South? What is invoked by the "southern" of "Southern Post-Colonial," and what new spatial and political possibilities are rendered legible via an engagement with race, culture, and diaspora?"
Her article ends with this: "For me, Lê's "Fragment VI" presents one way to articulate the South differently—to recognize the resonances between South Vietnam and the U.S. South, between South Vietnam and the Global South, between southern memory and nostalgia and the collective grief of a fallen nation—but to route this southern affect through southern Black protest and resilience, rather than the white supremacy of the Lost Cause."
Listen to episode 2459 and discover more about Evyn Lê Espiritu Gandhi's article Revisiting the Southern Question.
You are also encouraged to review her second article "Southern Memory, Southern Metaphor: Representing South Vietnam through the US South," which was published in American Quarterly.