Podcast: Play in new window | Download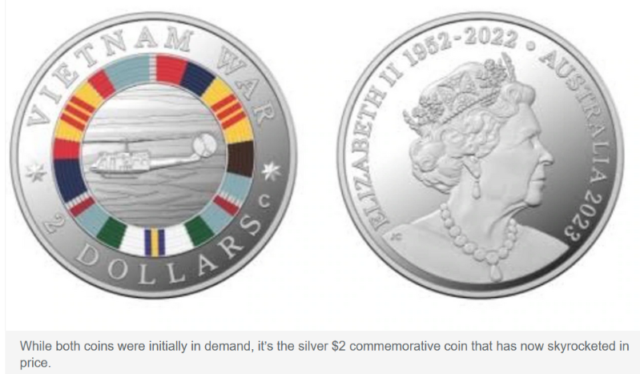 Episode 2492 of the Vietnam Veteran News Podcast will feature a story about Australia minting coins to commemorate the 50th anniversary of the end of its participation in the American Vietnam War.
The featured story it titled, New Australian $2 coin could earn you $1200. It was submitted by Carla Mascarenhas. She is a digital news producer and journalist at The Australian. She has worked as a producer, reporter and presenter for the ABC on the NSW mid-north coast and also as a reporter for The Port Macquarie News. She started at News Corp in 2020 with News Local before moving to The Australian. She holds a Master of Strategic Studies at ANU.
The story comes  from Australia's News.com. According to its website, News.com is Australia's number one commercial news site, news.com.au reaches over 10m* Australians, delivering extensive breaking news and national interest stories thanks to our team of dedicated journalists plus the strength of the News Corp Australia network.
According to the Mascarenhas article, Two coins were released recently to commemorate 50 years since Australia's involvement in the Vietnam War.
Both coins have "Vietnam War" printed on the surface and an image of a helicopter. The first coin, which is a traditional gold colour, was minted 80,000 times.
But the second coin, which is a silver version of the same coin, was minted just 5000 times.
Respected numismatist Joel Kandiah says the Royal Australian Mint's latest Vietnam War Silver $2 Coin is now in hot demand.
Silver coins were completely sold out on day one and the uncirculated coins were sold out by midnight.
Listen to episode 2492 and discover more about Australia minting coins to commemorate the 50th anniversary of the end of the American Vietnam War.
CLICK HERE for the Royal Australian Mint page to order one of the Australian Vietnam War Commemoration coins.