Podcast: Play in new window | Download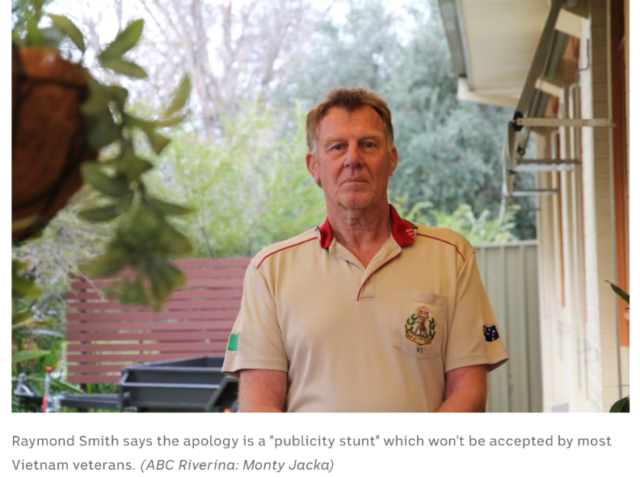 Episode 2585 of the Vietnam Veteran News Podcast will feature a story about the situation brewing amongst Australian Vietnam Veterans. The featured story comes from the Australian ABC News and is titled: RSL NSW president Ray James apologises to Vietnam War veterans for post-war treatment. The story was submitted by Monty Jacka. He is a journalist in the ABC Riverina newsroom at Wagga Wagga, NSW.
According to Jacka's story, it seems Ray James, the president of the New South Wales Returned and Services League (RSL) is issuing a formal apology to veterans who were criticized and shunned by the organization upon their return from the Vietnam War.
He continued: Ray James, also a Vietnam War veteran, said some sub-branches or clubs initially rejected soldiers who fought in the conflict due to the belief they didn't fight in "a real war".
According to James, 4,800 Vietnam veterans have signed up to the RSL in NSW, but more than 8,000 are still not members. "We've got to move on and move forward from what happened,"
Vietnam Vet Des Davie was greeted by abuse from anti-war protesters and the media when he returned from the War. Today he serves as the president of the Vietnam Veterans South West NSW sub-branch said RSL sub-branches were "stand-offish" towards those who had fought, which caused many veterans to feel isolated. "That was just the last thing that veterans needed when they came back from a war zone."
Raymond Smith is a forty year veteran of the Australian Army. He currently runs a support group for veterans in Wagga Wagga.
Mr Smith partially blamed the RSL for the civilian reaction, as it didn't defend or support those who returned from the conflict.
He said many veterans will not accept the apology, which he described as a "political stunt". He added this; "A lot of people … in this country, and especially in NSW, will turn their back and say that it doesn't mean a thing."
Listen to episode 2585 and discover more about the situation brewing amongst Australian Vietnam Veterans.