Podcast: Play in new window | Download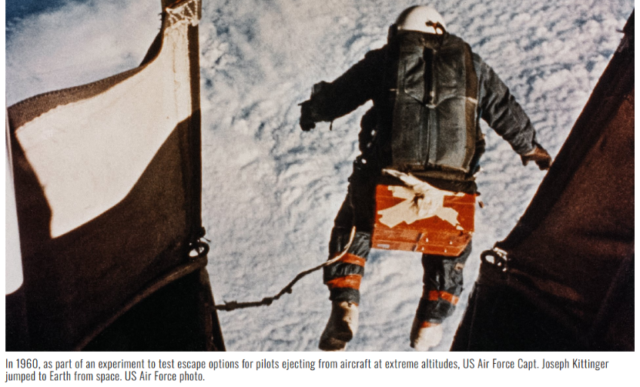 Episode 2591 of the Vietnam Veteran News Podcast will feature a story about Vietnam Veteran Joseph Kittinger and why he is a bonafide hero. The featured story appeared in the Coffee or Die Magazine, an information service of the Black Rifle Coffee Company. The story was titled The Air Force Pilot who Survived a Leap from Space. It was submitted by Matt Fratus.
He is a history staff writer for Coffee or Die. He prides himself on uncovering the most fascinating tales of history by sharing them through any means of engaging storytelling. He writes for his micro-blog @LateNightHistory on Instagram, where he shares the story behind the image. He is also the host of the Late Night History podcast. When not writing about history, Matt enjoys volunteering for One More Wave and rooting for Boston sports teams.
According to Fratus, Joseph Kittinger flew 483 combat missions  in Vietnam. He flew a twin-engine A-26 Invader bomber and the F-4D Phantom II fighter-bomber. In May 1972, he was shot down by the enemy and taken prisoner. He spent 11 brutal months interned at the infamous Hanoi Hilton prisoner of war camp. By the time he finally retired from the Air Force in 1978, he had received numerous commendations, including two Silver Stars and six Distinguished Flying Cross medals.
Before his service in Vietnam, on August 16, 1960 Kittinger set a world record for the highest parachute jump and longest free fall that lasted for more than 60 years.
He made his record setting parachute jump 19 miles above New Mexico. He entered an uncontrolled descent, falling at speeds exceeding 600 mph. The free fall lasted 4 minutes and 36 seconds until, at 14,000 feet; Kittinger pulled the ripcord of his parachute.
Listen to episode 2591 and discover more about Vietnam Veteran Joseph Kittinger and why he is a bonafide hero.