Podcast: Play in new window | Download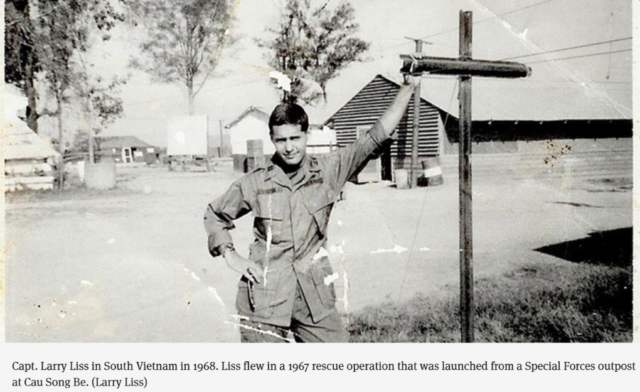 Episode 2605 of the Vietnam Veteran News Podcast will feature the incredible story of Vietnam Vet Larry Liss and the injustice he has faced over the years. The featured story appeared in the Stars and Stripes and was titled: Vietnam pilots who flew rescue helicopter into firefight 6 times deserve Medal of Honor, advocates say. It was submitted by John Vandiver.
On May 14, 1967, Army pilot Capt. Larry Liss arrived at the Green Beret outpost at Cau Song Be, Vietnam, in an unarmed Huey — the only helicopter on site at the time — when all hell broke loose.
What came next involved Liss and co-pilot Tom Baca flying six times into a small, contested area, in a frenzied rescue operation that helped save 87 troops with the help of a second Huey.
Their heroics were comparable to the exploits that led to last week's ceremony at the White House, where President Joe Biden pinned the Medal of Honor on Vietnam War pilot Larry Taylor, according to people with firsthand knowledge of the events.
Larry Liss' brother Arthur has compiled a 2,100-page history of the rescue that incorporates affidavits and flight logs as well as admissions from leaders at the time who say the pilots and several others weren't given their due. For more than a decade, a push has been underway to get the Distinguished Flying Crosses awarded to Liss and Baca upgraded. Liss is now 82, and Baca died in 2020.
After numerous rejections, the Army's awards and decorations office in May issued an advisory opinion saying that Larry Liss met the minimum standards for the Silver Star and referred the matter to the Army Board of Corrections for Military Records. The board, which can accept or reject the advisory opinion, has yet to rule on the matter.
While a Silver Star would be an upgrade, Arthur Liss said it still falls short of recognizing the level of valor his brother demonstrated on May 14, 1967.
Listen to episode 2605 and discover more about the incredible story of Vietnam Vet Larry Liss and the injustice he has faced over the years.