Podcast: Play in new window | Download
Episode 2643 of the Vietnam Veteran News Podcast will feature a story about Vietnam Vet
who recovered his Vietnam mementos 52 years later. The featured story comes from The Milwaukee Journal Sentinel and is titled: 52 years after he sent it home from Vietnam, this veteran was reunited with his box of medals and mementos. The story was submitted by Grace Cady. She is a reporting intern from Marquette University working on stories within the entertainment and features department.
It was reported in Cady's story that when John Nordgaard returned home from Vietnam in 1971, he was reunited with his family and his college sweetheart, Eleanor. But he wasn't reunited with a box of mementos and medals he had sent home — until May of this year, more than 52 years later.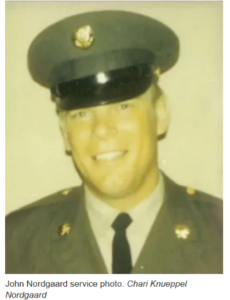 Nordgaard served as a medic in Vietnam in the 1970s. When he finished his service in April 1971, he mailed a box of letters, videotapes, medals and awards — including a Bronze Star, a Purple Heart and a Medal of Valor — back home. But the box never made it.
Nearly 50 years later, a man in Michigan noticed a cardboard box in his dad's basement that had only a name, but no address. He did some internet searching and found an email address for someone he thought might be a relative — Chari Nordgaard Knueppel, John's daughter.
Nordgaard was a star football player at the University of Minnesota-Morris, but after he was cut from the Atlanta Falcons after college, he knew he would be drafted to serve in Vietnam.
Nordgaard said his post-Vietnam life is as "beautiful" as he could have ever wanted. He worked as a high school teacher, then principal, and a coach for football, track and baseball teams.
Listen to episode 2643 and discover more about Vietnam Vet John Nordgaard who recovered his Vietnam mementos 52 years later.