Podcast: Play in new window | Download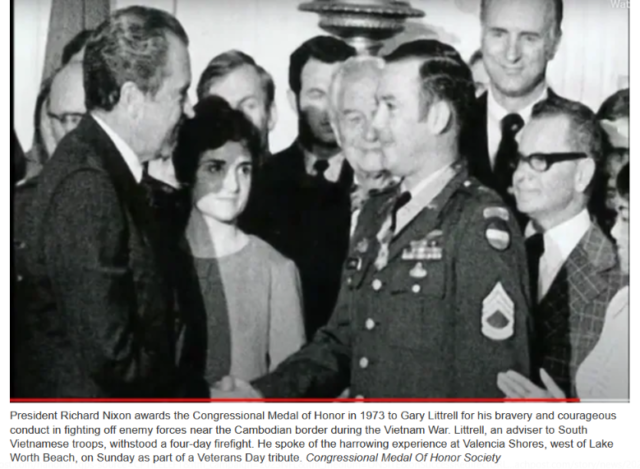 Episode 2652 of the Vietnam Veteran News Podcast will feature a story about CMH recipient and Vietnam Veteran Gary Littrell and his important message for us all. The featured story comes from The Palm Beach Post and is titled, Congressional Medal of Honor recipient: Let's take care of our veterans Gary Littrell was awarded the Congressional Medal of Honor for his service in 1970 in Vietnam. He relayed his experience Sunday to members of the Valencia Shores Men's Club. The story was submitted by Mike Diamond to The Palm Beach Post. Mike Diamond [atmdiamond@pbpost.com] is a journalist at The Palm Beach Post, part of the USA TODAY Florida Network. He covers Palm Beach County government and transportation.
Gary Littrell is another tremendous representative of the Vietnam Veteran Generation – one as great as any that ever heeded the call of duty from our country.
Mike Diamond reported that  On April 8, 1970, Gary Littrell thought his life was about to end. He was serving as an adviser to a South Vietnamese battalion of 473 U.S. Army Rangers trapped on a hillside in Kon Tum Province near the Cambodian border. Enemy forces surrounded the Rangers, who were being assisted by Littrell and two other American advisers.
Littrell detailed his harrowing experience Sunday to more than 300 residents of the Valencia Shores retirement community west of Lake Worth Beach, as part of a Veterans Day tribute arranged by the community's Men's Club.
Littrell received the Congressional Medal of Honor in 1973 for keeping the battalion inspired while he directed artillery and air support, distributed ammunition, strengthened faltering defenses, cared for wounded, and shouted encouragement to the Vietnamese soldiers in their own language.
Littrell implored his audience with this: "If you see a veteran in trouble, help them get the help they need before it is too late." Twenty-two veterans a day commit suicide.
Listen to episode 2652 and discover more about CMH recipient and Vietnam Veteran Kenneth Gary Littrell and his important message for us all.