Podcast: Play in new window | Download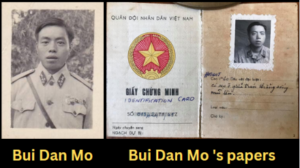 Episode 1776 will feature another presentation by Vietnam Veteran, John Shoemaker. He served as an infantry platoon leader with the 196th Infantry Brigade in Vietnam. He was in country during 1970 and 1971.
He has written numerous stories about his experiences in Vietnam as a combat platoon leader that has appeared in the Metro West Daily News of Framingham, Massachusetts and many others including the Wall Street Journal.
One of his stories was "Ghost Who Came Alive." That story is about one of the rarest of Vietnam War consequences. It all started with a combat action in the vicinity of the firebase at Kham Duc in western Quang Ngãi Province.
Shoemaker's platoon was fighting NVA troops who were attempting to destroy the firebase and as many Americans as possible. Shoemaker and his men prevailed and many NVA soldiers were killed.
One of those NVA casualties was Bui Dan Mo. As was the accepted practice after a firefight, the personal effects of the dead were collected for intelligence purposes. After Bui's personal papers were examined, Shoemaker was allowed to keep Bui's military ID papers as a memento.
Those papers were stored away in an attic in Boston until they were rediscovered fifty years later by Shoemaker when he was preparing to move to a new home. That discovery led to a chain of events that produced one of the rarest of things any Vietnam Veteran could ever experience.
In his presentation of the amazing event, Shoemaker begins by describing the challenging combat that took the lives of numerous NVA troops and one of his men. He then will describe in detail the chain of actions that led up to a rare event that should be made into a movie.
Listen to episode 1776 and discover more about Vietnam Vet John Shoemaker and what he has to say about one of the rarest consequences of the Vietnam War.