Podcast: Play in new window | Download
Episode 1771 of the Vietnam Veteran News Podcast will feature Vietnam Veteran, John Shoemaker. He will be sharing a story of hardship, pain and agony that resulted from the death of one of his men in Vietnam.
The prologue of John's story here can be found in episode 1767 of this podcast. There John described a battle on the Ho Chi Minh Trail that took place on July 23, 1970. At the time he was the 3rd platoon leader of B Company, 2nd Battalion, 1st Infantry, 196th Infantry Brigade, Americal Division.
His platoon was conducting a recon in force operation in Western Quang Ngãi Province. Suddenly they found themselves on the Ho Chi Minh Trail. Soon after that they were under enemy fire.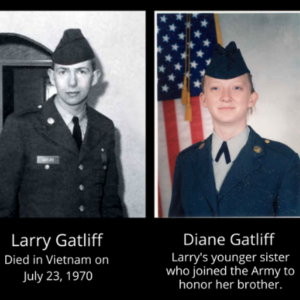 Immediately one of John's men was cut down by an enemy bullet. It was nineteen year old Oregonian Larry Gatliff. He was one of the best soldiers in the platoon. His loss was a tremendous hit to John and he mourned his death for a long time.
Years later after John had left the Army and become a businessman in Boston, he took his son to see the movie Platoon. Seeing the action filled movie brought back vivid memories of his time in Vietnam.
Seeing that movie inspired him to seek out Larry Gatliff's family and convey to them the respect he held for their loved family member. That led John on a long journey of discovery filled with disappoint and success.
John has written numerous columns about his time in the War including Larry Gatliff's story that appeared in the Metro West Daily News of Framingham, Massachusetts and other publications including the Wall Street Journal.
Listen to episode 1771 and discover more about the hardship, pain and agony that was caused by the death of Larry Gatliff in Vietnam on July 23, 1970 on the Ho Chi Minh Trail.