Podcast: Play in new window | Download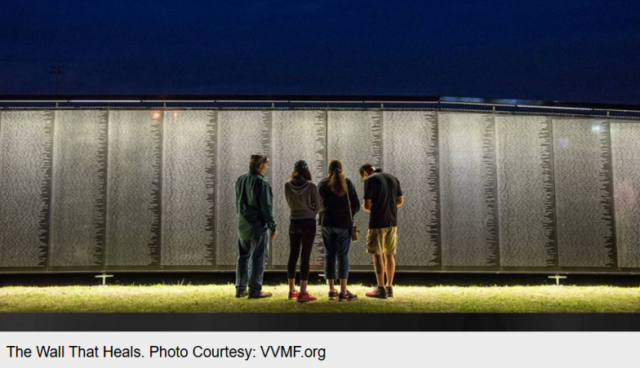 Episode 2577 of the Vietnam Veteran News Podcast will feature a story about the upcoming appearance of the Wall that Heals at Hilo, Hawaii. The featured story appeared on the Big Island Now website and was titled: Wall That Heals, a Vietnam veteran memorial, to arrive on Big Island.
It was reported in the story that The Wall That Heals, a three-quarter scale replica of the revered Vietnam Veterans Memorial in Washington D.C., will make its way to Hilo in early 2024.
The mayor of Hilo, Mitch Roth said this about the event: "The Wall That Heals continues to serve as a powerful symbol of remembrance and respect. By bringing it to Hilo, we hope to offer our community the opportunity to honor the sacrifices of our service members and gain deeper insights into this pivotal period in our history."
The arrival of The Wall That Heals in Hilo highlights its mission to bring the Memorial's poignant experience to communities that may not have the chance to visit Washington D.C. The exhibition aims to educate the public about the Vietnam War and its profound impact on American history while providing a platform for veterans and their families to find closure.
Bringing The Wall home to communities throughout our country allows the souls enshrined on the Memorial to exist once more among family and friends in the peace and comfort of familiar surroundings. The traveling exhibit provides thousands of veterans who have been unable to cope with the prospect of facing The Wall to find the strength and courage to do so within their own communities, thus allowing the healing process to begin.
All citizens of Hawaii are encouraged to visit the Wall that Heals when it comes to Hilo in early 2024.
Listen to episode 2577 and discover more about the upcoming appearance of the Wall that Heals at Hilo, Hawaii.